In March 2020, higher education was forced to adapt quickly to COVID-19 by converting face-to-face classes to online delivery. The challenge was unprecedented, but by working closely together, faculty and IT professionals across the country rose to the occasion to salvage a semester that would otherwise have been lost by a global pandemic.

From institutions' perspectives, this pivot in modality was hugely successful. Our data indicate online growth among our schools increased by more than 43%. Nevertheless, students did not universally fare well through this transition and confronted a new barrier to learning: their own technology.
Higher Education has long focused on risk indicators to improve student retention (e.g., previous grades, test scores, socioeconomic factors, etc.). Online students face these risks as well, but they also face the risk of inadequate personal technology. in other words, if the Learning Management System (LMS) represents a virtual campus, then student-owned technology is the vehicle for getting there.
"If the Learning Management System (LMS) represents a virtual campus, then student-owned technology is the vehicle for getting there."
Schools may post technical requirements for online learning on their websites, but they seldom know whether students actually read these requirements, let alone whether their devices meet them. Unfortunately, many students don't discover problems until classes start, which leads some to withdraw from courses and possibly the school. In fact, studies (read this and this) have shown that as many as 70% of students drop out of their online courses or programs, and among the leading factors include "technology disruption" and "lack of technology support." 
Technology assessment solutions like TechReady.io improve online student retention by addressing technology challenges for online learners up front, before a looming assignment. In our opinion, helping students make certain their technology is adequate for online learning must be incorporated into every school's overall retention efforts.
At TechReady.io, we make it a top priority to share the data and insights we gain along the way, in an effort to advance the Higher Education industry as a whole. Our ongoing data analysis of student device testing conducted on TechReady.io is one of our initiatives to achieve just that. While no personal information is ever collected, the TechReady.io dashboard compiles systemwide scan data — enabling institutions to make more informed decisions on how to design and improve their online programs. We take our internal analysis one step further by aggregating test data from all institutions that use TechReady.io, so we can provide a broader picture of the tech readiness of online students across the country. Here are our findings from the 2020-2021 academic year, which are consistent across all regions and time zones within the U.S.
Findings for 
2020-2021
Our findings show that for students new to online learning, only 39% of their devices were ready for learning online. These devices are compatible, have the necessary updates, and sufficient bandwidth to use major learning systems. The students who owned these devices were able to start online classes without technology adjustments. 

The remaining 61% of student devices that were tested on TechReady.io, had an array of issues, from minor to significant, that could impede learning online. For retention-minded teams, it's worth taking a closer look at the types of issues that were identified and how severe they can be.

Our research indicates an increasing preference for mobile devices among online students. For this academic year, 24% of students (up from 18% last year) use smartphones and tablets as their primary, perhaps only, device for learning online; this represents a significant risk in learning systems not compatible with mobile devices.

Among desktop/laptop users, 56% did not support recent TLS standards, which present an unnecessary security risk to their organization.

Equivalent to the previous school year, 14% of devices that were tested lacked sufficient internet connectivity. This is the group most likely to drop out of online programs without intervention. 
We spoke to a number of schools that found a high volume of students with internet connectivity issues reported through TechReady.io device scans. We sought to understand how organizations use this information to inform their retention efforts. Jim Dahlberg, the Sr. Director of Information Technology at Wisconsin Indianhead Technical College, explained, 
"First we make sure the test is accurate, so we ask the student to perform a second device test to confirm. We explain to them how online streaming can impact bandwidth and ask them to make sure other people in the household are not streaming while the test is being performed. If they confirm no one else is online, we suggest upgrading their service or finding an alternative location, such as a public library or cafe, to increase bandwidth. If all else fails, we encourage them to come to our campus, as our facilities are open late. This was a risk group we were simply not addressing before using TechReady.io, as we had no prior insight into the connectivity issues our students face. Now we at least know who's at risk and have a strategy in place for helping them."

While bandwidth certainly contributes to this issue, our data indicate that 26% of all devices tested failed to meet their school's minimum online learning requirements, as defined by the institution. Put more pointedly, 1 in 4 online students are at risk of dropping out over technology challenges. 
Because many schools leverage TechReady.io during the recruitment process, they are able to identify issues during the enrollment process. Randall Sansom, Chief Technology Officer, explained, 
"35% of our students struggled in the first few weeks of the term simply because their technologies were not adequate to take classes online. This, unfortunately, caused high attrition rates and hours upon hours of student support calls. We decided to use TechReady.io during the actual recruitment process, which enabled us to identify tech issues before students even enrolled in online courses — saving both frustration for prospective students and recruiting costs." 

While 7% of students using TechReady.io required additional tech support, their test results were shared with their institution's help desk enabling staff to streamline tech support. Schools that manage technical support in-house, benefit from having simple technology issues detected and corrected without the need for students to contact the help desk. As Joseph Cameron, Online Learning Systems Administrator at California Baptist University, informed us, 
"Techready.io is a great tool for smaller I.T. teams like ours. It fills a gap in our support structure by allowing students and faculty to test their systems and find guided help, and provides us with information about their systems so that we can better support them." 
Our findings indicate that literally every student with technology issues was better served with TechReady.io than without.
Granular Insights
We found that students often use more than one device for online learning. While there was no change in desktop/laptop usage, the use of smartphones and tablets were up from 18% the previous school year. The graph below shows a complete breakdown of device distribution.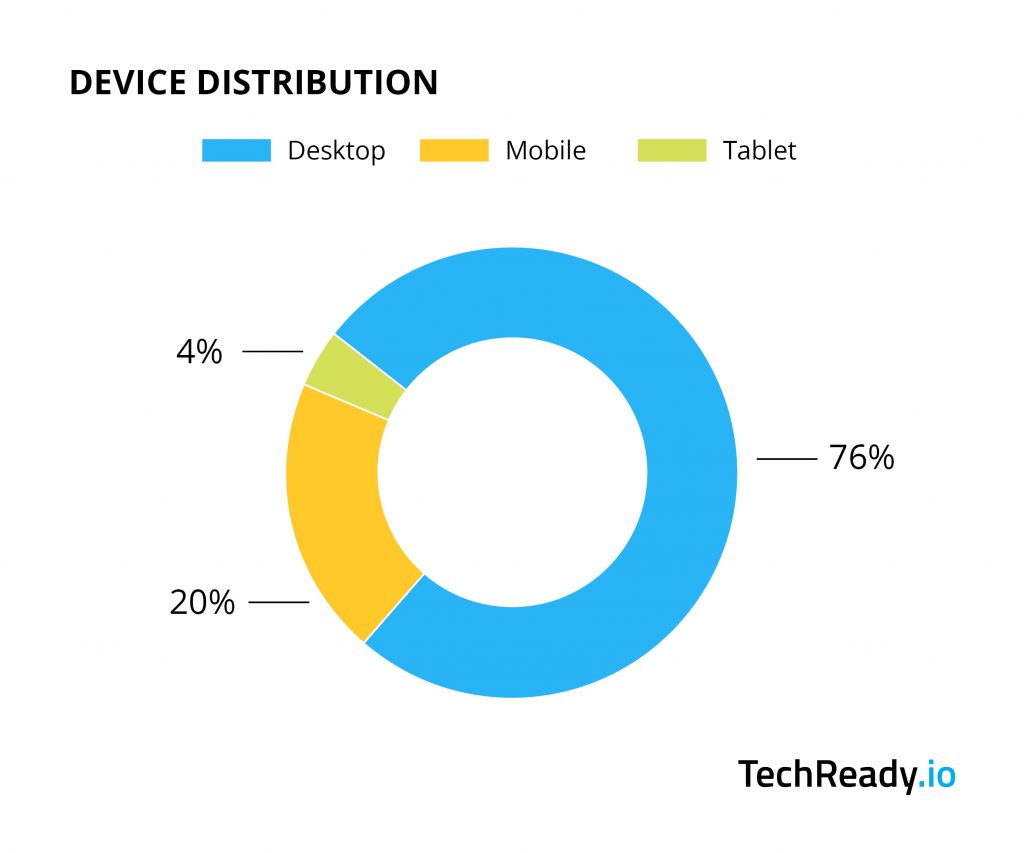 While there was no change in the use of Edge, we found the use of Chrome was down from 58% the previous school year. Firefox was up from 8% and Safari was up from 13% the previous school year. The graph below shows a complete break down of browser distribution.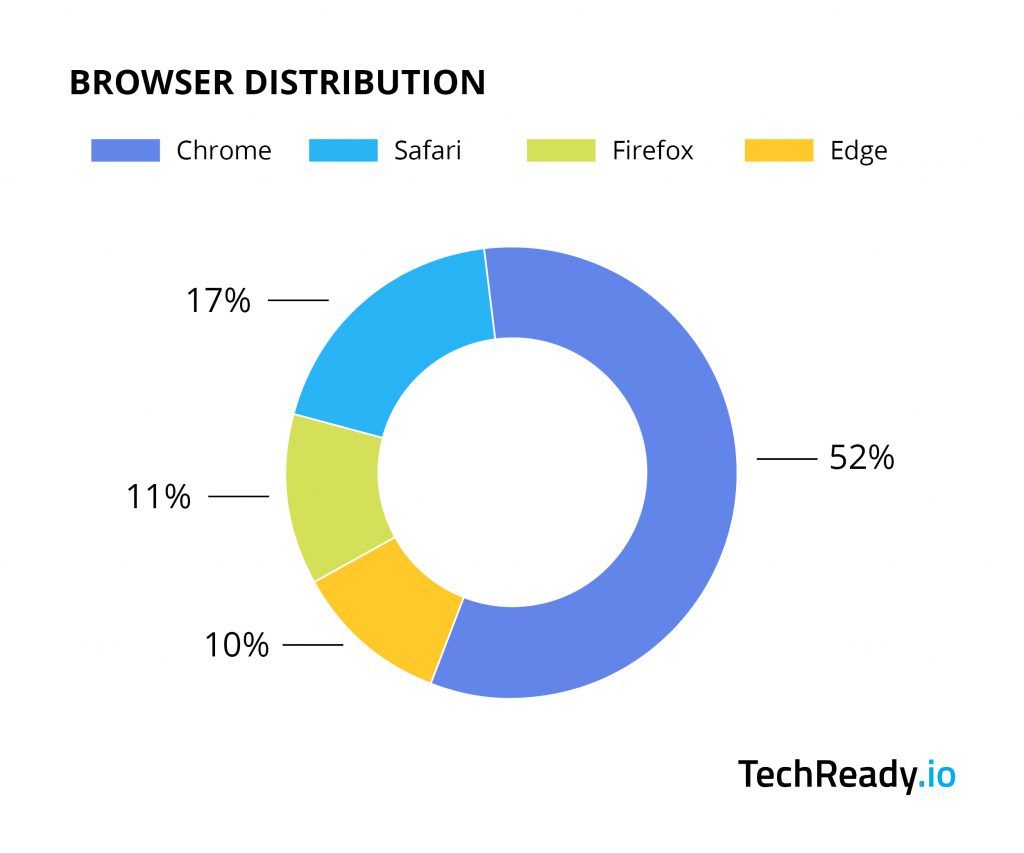 We found that the use of Windows operating system was up 19% compared to the previous school year. It's important to note that we found 10% of these devices use Windows 7 or older, which Microsoft stopped supporting in January 2020 — a looming risk factor for these online students. Meanwhile, MacOS was down 1.5%, iOS was down 5%, ChromeOS was down 3%, and Android was down 8% compared to the previous school year. The graph below shows a complete breakdown of operating system distribution.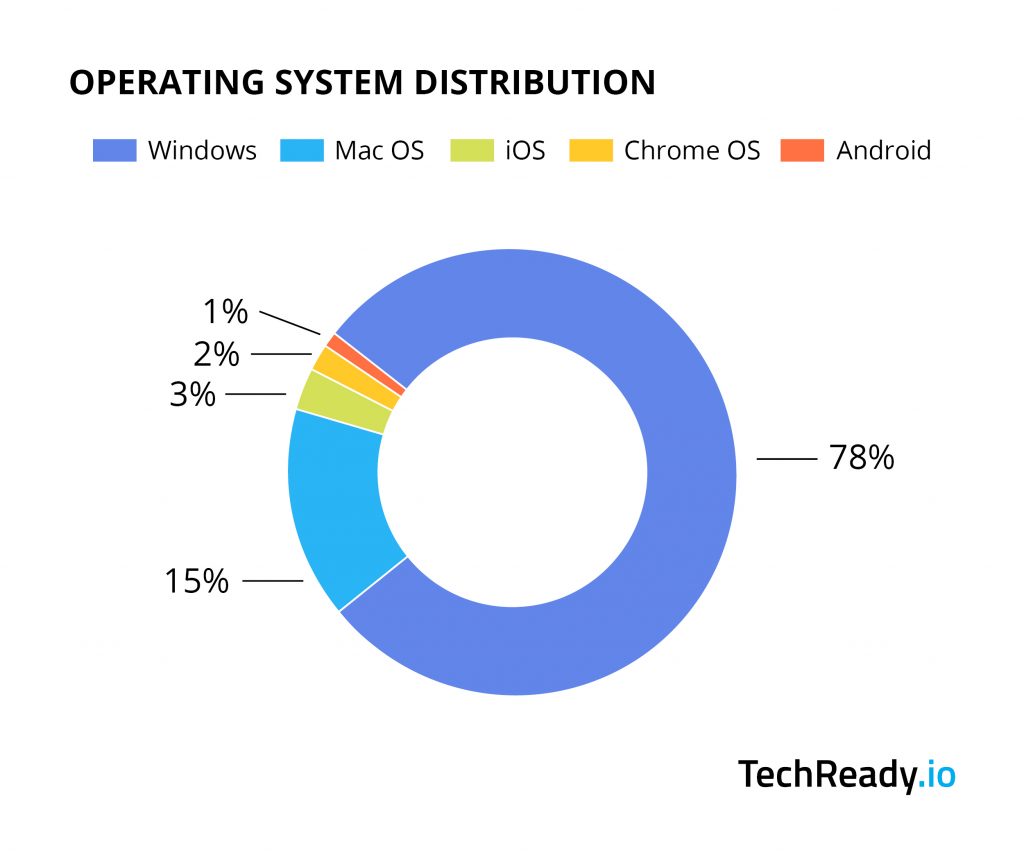 Your Online Students Deserve the Opportunity to Succeed — TechReady.io Can Help!
Request a demo to learn how TechReady.io can help your organization.